Thanksgiving is as much a Turkey day as it is a Pumpkin Pie day. Now you can find a million recipes for pumpkin pie and pies that have pumpkin in them, but you won't find them here. Here we have some other treats that feature the famous pumpkin pie flavor, and then a few that just look like pumpkin pie or pumpkins. If you read our last post on cranberry recipes for Thanksgiving we kind of add to the game day idea menu with a few of these pumpkin recipes.
Pumpkin Pie Crscents
source Spend with PenniesPerfect as a treat, dessert, breakfast or brunch. Its also can be a task for the littles to help you with. They use Pillsbury Crescent rolls, pumpkin pie filling, and glazed with a maple syrup blend.
Pumpkin Pie Wontons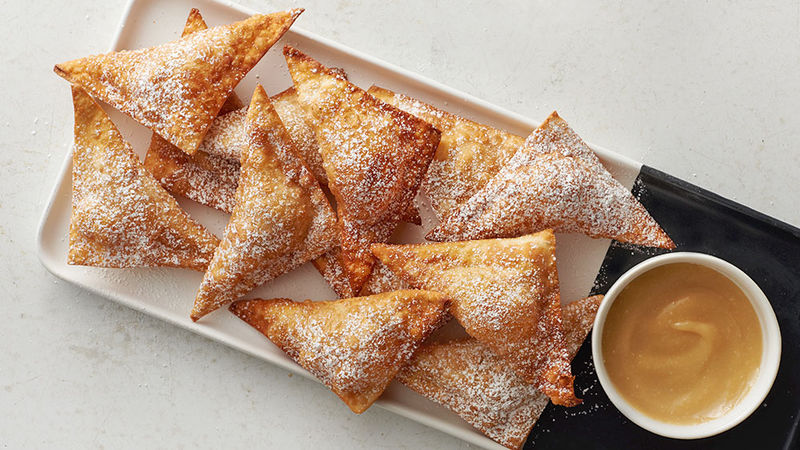 source TablespoonCreamy Pumpkin filled wontons and this recipe also includes a super yummy maple dip, that complements the pumpkin pie filling perfectly. Its a nice little pumpkin pie bite.
Pumpkin Pie Cinnamon Rolls
source Diethood

Another Pumpkin Pie recipe that will work as dessert, a treat, breakfast and brunch. Unlike the other recipe above, this one calls for real pumpkin puree, that you add all those spicy pumpkin Pie spices to. Topped off with a vanilla cream cheese pumpkin pie spice. Thanksgiving dessert rolled up into a fluffy roll.
Pumpkin Pie Jello Shots
source The Cookie Rookie

This is a great idea to get the Thanksgiving, or Friendsgiving, Party started. A nice little twist on a classic party treat, the Jello shot in a pie form. Uses premade pie crust, pumpkin pie filling, gelatin and white rum or vodka. Then top them off with some whipped cream and a dash of cinnamon and pumpkin spice. They also seem to put a little sprinkle of cinnamon or pumpkin spice on the pie shells before baking.
Pumpkin Rolls
source Thistlewood Farms

So this isn't so much a Pumpkin Pie treat but a Pumpkin shaped treat. The recipe shows you how to shape your refrigerator rolls to bake in the shape of a pumpkin. The stem of the pumpkin is actually a slice of a pecan. They make a nice little festive touch to your Thanksgiving dinner.
Pumpkin Pie cheese & crackers
source sheknows

So this is another not so much a pumpkin pie treat, but a treat that is made to look like pumpkin pie. Whipped cream cheese is piped onto the different crackers to act like a glue that holds them all together with the cheese to make this adorable little festive bite. Its also a great game day treat, since cheese and crackers are a go to game day treat too.
Be sure to check out more great Thanksgiving ideas on Pinterest.
Also check out our Thanksgiving Paper Designs in our Etsy Shop.