If you have been following our blog you know last year we had a post of Ruggedly-handsome ornaments for you to make, and it was quite a hit. So like we said in the previous ornament post . . .
The best Christmas ornaments are ones you make yourself, and though all are quite festive not many are 'manly' but I rounded up a few that could fit the bill.
As I said there are a ton of DIY ornaments you can make and they are all festive but not many are the sort that you would feel that you can give to the gentlemen in your life and be sure that they would actually enjoy receiving them. So again I have come up with this list of tutorials on some pretty rugged, and a little handsome, Christmas Ornaments. I hope you find the perfect ornament for you.
Fabric Wrapped Ornament
Nautical Ornament
source DecoholicThis ornament requires some macramé, the tutorial does a good job of walking you through the steps to make the 'net' they say the technique for good macramé is consistent knots. The tutorial uses a red glass orb, but I think you can still do the project with a Christmas ornament. If I made this I would make the hanging rope length shorter since you need to consider that they need to hang between the layers of branches.
Ammo Christmas Ornament
source A Thrifty MomThe blog is pretty specific in stating that Live ammo should not be used and they have some links for where to get empty bullet 'bass'. I think what makes this ornament festive, and sort of beautiful is the addition of the fake pine pieces, you ould probably even add some fake snow too, and even try a red satin ribbon tied in a bow around the top instead of jute. Remember you can be insured by the ornament and use part of the tutorial but make it your own.
Forest Ornament
source The Thrifty CrafterContinuing from the Ammo ornament, in case you do not have empty bullets or do not care to use ammo in a Christmas gift you can add moss and pinecones to the fake pine pieces for a very natural look. To make even more Christmassy you can add a tiny figurine, santa or reindeer so it looks like a little terrarium.
Patch of Plaid Mason Jar Lid Ornament
source Clean and ScentsibleUsing the mason jar lid with the screw ring, some flannel, though like the first ornament you can really use any fabric you want, some twine, and hot glue. They used a card stock cut out of holiday shapes, though you can also use iron on patches or even appliqué on your ornament, just remember that you should do this before gluing the fabric onto the lid.
Balsa Wood Holiday Ornaments
source Say Yes Say YesApparently Balsa wood can be very thin, so thin you can cut with an exacto knife which is great if you want a wooden ornament but do not have a scroll saw to cut any unusual shapes out. The thing to remember with using an exact knife is to use a sharp blade, a cutting surface underneath your material and to use a slow and gentle pressure, you do not need to cut through in one pass and to keep your fingers that are holding the material steady behind the moving blade so in case the blade jumps out of your material it doesn't slash through a finger too. Back to the ornament, they use cookie cutters to trace out the shapes onto their balsa wood. They decorate with a chalkboard marker but you can use paint or hot glue decorations on, just make it your own.
Bolt and Nut Workshop Christmas Tree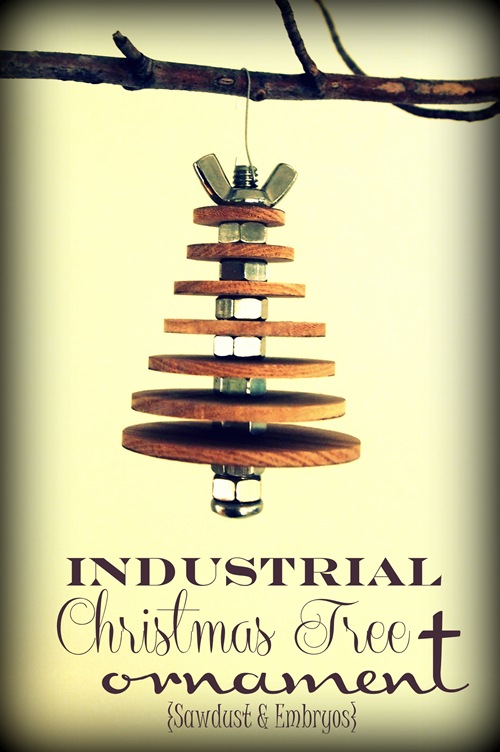 source Sawdust & EmbryosThis tutorial calls for some workshop tools which is great if you have them, they use a scroll saw to cut out the little wooden discs, a drill to drill through the bold end to string the wire hanger through and to drill through the wood discs. The tree's trunk is made with a bolt and then they used nuts to space out all the wooden discs until the top of the tree is a wing nut holding it all together. If you do not have a scroll saw my suggestion is using layers of cardboard, balsa wood, or other similar materials that you can cut using scissors, razor blade, or exact knife. If you use cardboard you can glue on some patterned paper to make it your own. As for the wire hanger you can trial and error a way to attach it around the bolt so the wing nut holds it in place. If using thinner material than the 1/8″ wood you can add more than one paper disc between the bolts to make the layers. You can even use the thicker, stiffer felt that is sturdy enough not to flop from gravity.
Photo Transfer Wooden Ornament
source Landee See Landee DoThis tutorial will let you know where to find the materials and show you the photo transfer technique to create this personal and lovely ornaments. The key to the transfer is Matte Gel Medium and laser printer, ink jet will not work. Color photos will work as well, just remember to flip your image before you print so it will appear the proper way once transferred. To make this your own my suggestions are mode lodge some elements into the photo scene or hand paint some elements in like you might when you doodle on a picture in your phone just remember to seal your additional art so it will last as long as your photo.
Be sure to check out more great Christmas Ornament ideas on Pinterest.
Also check out our Holiday Paper Designs in our Etsy Shop.